---
Least Expensive Around the World Airfare
Visiting all continents in the world for at least one week, including the two most populous countries in the world (both in Asia).
---
Outline
Method

Influence of travel dates, places visited

By Air

By Bus and Air

Bus Graphic

Airfare graphic

An Idiot Abroad
---
Method
I used Google Flights and Google Maps services to make my schedule as well as the map because it wouldn't show up for me when I saved the file.
Influence of Travel Dates, Places Visited
I started on April 28 and ended June 3.
By Air
The least expensive airfare flying from Omaha to all continents. Stay on each continent at least one week.
Date

Origin - Destination

Departure - Arrival Time

Flight cost $

Visa cost

Comment

4-28

Omaha - Los Angeles

7:40am - 11:30am

$315

$160/NA

Round Trip

4-28

Los Angeles - Shanghai

12:50am - 6:30pm

$381

$140

Visa for an American

5-5/6

Shanghai - Sydney

8:05pm - 10:50am

$393

$20

5-12/13

Sydney - Johannesburg

8:55pm - 4:30pm

$762

$50

Visa for 7 days

5-19/20

Johannesburg - Rome

7:10pm - 1:25pm

$419

$60

Visa for air transport

5-26/27

Rome - Bogota

11:55pm - 9:50pm

$569

$160

6-2/3

Bogota - Los Angeles

3:25pm - 9:30am

$445

NA

6-3

Los Angeles

1:05 pm - 10:46pm

$0

Sum $3284

Sum $590
The total cost to fly around the world, including visa costs, is $3874
Insert screenshots here.
<![if !vml]>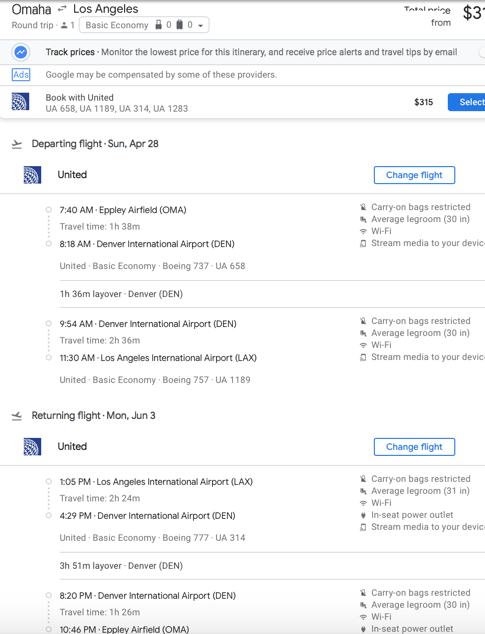 <![endif]>
<![if !vml]><![endif]>
<![if !vml]><![endif]>
<![if !vml]><![endif]>
<![if !vml]><![endif]>
<![if !vml]><![endif]>
<![if !vml]><![endif]>
By Air and Bus
Based on the same amount of time travelling to the other continents with the same departure and return date it would cost $385 for a round trip from Omaha to Los Angeles. This is still a little more expensive than what it would cost to fly straight to Los Angeles.
Bus Graphic
<![if !vml]><![endif]>
<![if !vml]><![endif]>
Airfare Graphic
Use the print screen button on the keyboard to capture the entire itinerary. Then, open a picture editing program and select Paste. Crop to fit and save.
<![if !vml]><![endif]>
An Idiot Abroad
Comment on two episodes of this series: 1) In the Great Wall episode, the main character talks about a toad in a well. What is the point of this story? 2) Comment on some of the lodging presented to the main character in his trip to India.
The toad in a well is a metaphor, being the toad living in the well can only see so much until the toad gets out. For us humans it would be like staying in our hometown forever. When they leave they see other parts of the world. The point of the story is that there is many parts of the Earth and we just haven't seen them yet.
The lodging in India is much worse than here in the US. The first room that was presented could hold 3 or 4 adults but had no toilet, which was very odd. The second room that was presented was an improvement but still not modern like we are used to, this one did have a "toilet" which was just a hole in the ground which isn't really that sanitary.
---
Submitted by Zach Coartney on 3-18.